John said...
Hello this post is very important to me as a father to 4 lovely daughters as it will be 7 years ago in two days time (28th November) when my life as a father came crashing down.On 28th November 2008 one of my daughters at 18 years of age was working as cabin crew in Dublin for Ryanair so we thought.She was recruited and trained by a company called Crewlink Limited now called Crewlink Ireland Limited
http://www.crewlink.ie/ .

to become cabin crew at Ryanair.As you can see from their website, to an 18 year old it very much looks like Ryanair and not a shell company set up by Ryanair to exploit thousands of young people all over Europe with no blame landing at Ryanair's door.Until the day Ryanair messed with my daughter and Terminated her contract after a 7 week period.Ryanair plus the shell company Crewlink have given my daughter a letter stating she was not suitable as cabin crew with no mention of employment issues which became more clear once i contact the press in December 2008.Ryanair through crew control at Ryanair added issues of lates and sick days which were a way in Terminating not only my daughter but thousands of other young people all paying £thousands to train as cabin crew and work at Ryanair.The full story of why this campaign was started can be viewed to the right menu of this blog.
Many people believe that a guy called Michael O'Leary is the boss at Ryanair
which is not true.Michael O'Leary is the face of Ryanair and the Chief is a Scum bag called David Bonderman founder of TPG in the US.Bondo to his friends got involved with Ryanair in 2004 when these cabin crew shell companies set up shop with the planning coming from Bonderman.
Bondoman is the old guy in the photo above who saw a loop hole in recruitment and employment law in Ireland (he worked in civil rights for attorney generals office in USA) and starting the Ryanair Recruitment for Termination which main aim was to use a per hour rate of pay scam on new recruited cabin crew through these shell companies Crewlink and Workforce International (Dalmac).80% of cabin crew you see on Ryanair aircraft are contracted through these Ryanair shell companies..
This scam involves recruiting as many cabin crew as they can through these shell companies with some months having over 50 recruitment days all over Europe.To explain this better, Ryanair are twice the size of Easyjet, taking twice as many passengers and having twice as many aircraft.Easyjet have 6 cabin crew recruitment days a year.''Simple'' why do Ryanair have 50 a month..Has the penny dropped !!!!!!! Sorry £million...
This cabin crew abuse and exploitation wrecks young lives which i know a lot about through my own daughters treatment at Ryanair and generates £millions each month for Bonderman and O'Leary.
Tomorrow 27th of November in David Bonderman's birthday and this blog post is for him.
HAPPY BIRTHDAY BONDO
Over the last 24 hours on twitter and the internet Ryanair have revealed a secret ballot that took place regarding Cabin crew pay at Ryanair.The 20% of cabin crew at Ryanair got involved with the 4000+ 80% not being involved.The 80% are recruited and contracted through the Ryanair shell companies Crewlink and Workforce International.
So today being a 10 years celebration with Ryanair at Liverpool airport..Liverpool airport like most UK airports are aware how bad cabin crew are treated but turn a blind eye Profit being their priority in this field,Liverpool not Ryanair paid for a promotion in Liverpool see below on twitter.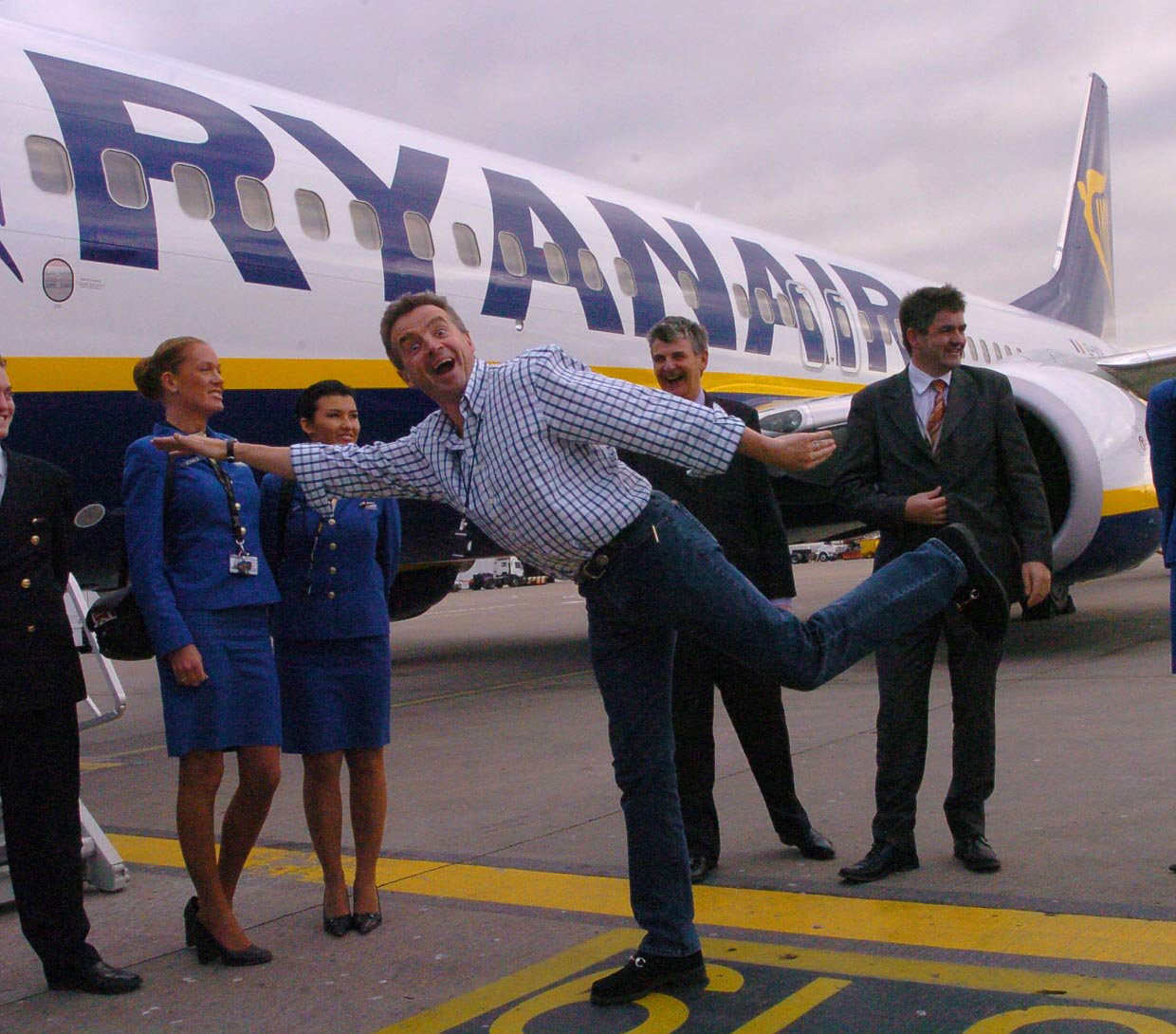 So Ryanair set up a ice lollies giveaway in Liverpool to celebrate their 10 years here.Lol yes and Liverpool airport paid for this cheap promotional lollies set up not Ryanair. Ryanair took to twitter #RyanairLiverpool and Ryanair's communications manager Robin Kiely (Ryanair press officer) was talking to the press in St Paul's Square in Liverpool city center and see the video and photos below.HE DECIDED TO LEAVE HIS PROMOTIONAL STAND and run and would not answer any questions regarding Ryanair's cabin crew pay.
I did let the interview continue without any noise as i didn't have any problem with the press who were only doing their job but did state i would continue to protests in 5 minutes time.Two security guards did approach me and they were very polite.
Anybody for lollies..
video 1.
Robin Kiely Ryanair communications manager happy as Larry 9am at Liverpool Airport.
Not So Happy Now Are You Robin at 1,30pm in Liverpool
As you can see rubbing his hands ''Nervous Robin'' its John Foley here from the 7 year Ryanairdontcare Campaign.
Sign says it all Robin.
Save best till last Banner says it all Robin.
Not wanting to talk about cabin crew pay,not wanting Ryanairdontcare Campaign's business card,not wanting to give Ryanairdontcare Campaign an interview and then Ryanair's Communications Manager is gone....
Video 2..
Robin texting Michael O'leary Foley 's here.
''JOB WELL DONE''
RYANAIR ARE EUROPE'S GREATEST EXPLOITER OF YOUNG PEOPLE WISHING A CAREER IN AVIATION AS CABIN CREW ...
''BOYCOTT

RYANAIR

NOW''
Added 1st December. .
Liverpool airport tracked on this blog.Liverpool airport new all about the death of a Ryanair pilot Paul Ridgard based at Liverpool and kept quiet as fee's from Ryanair are more important...
Liverpool, United Kingdom

30 Nov
09:27:

44